The pursuit of the undressed cow and calf hides used for our production begins with a rigorous selection of the finest cowhide shoulders and calfskins of Europe, absolutely the best in quality.
The tanning is done
exclusively with vegetable extracts
from plants such as the Quebracho and the Mimosa.
Afterwards, the skins are treated with lards and animal oils.
To finish off the product, anilines and caseins are used which give the product a natural and transparent look.
As tradition dictates,
blotting by hand
gives our hides a pleasant aged look requested which is all over the world.
Our products are available from 1.0 mm. up to 4.0 mm. in thickness and are made for bags, purses, briefcases, wallets, albums, belts, shoes, furnitures and general leather goods.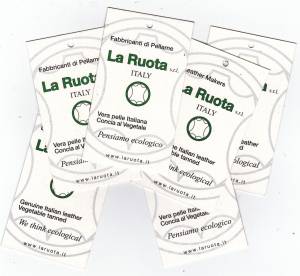 Leather´s inherent naturalness, characteristic scent, natural creases and absence of noxious chemicals lends itself to produce items that only improve in appearance with the passage of time.

For this reason we have created a personalized label/hang tag, in both Italian and English, to guarantee and to certify that all our leathers are natural, vegetable tanned, chrome free and, of course, 100% made in Italy.

You could put these labels on your final products that were manufactured with our leathers for an added value, so that the final consumer will be sure that the leather used to make these items is eco-friendly and produced by following the ancient Italian tanning tradition.
Ask us for these hang tags, and we will be glad to send them together with the orders of vegetable tanned leathers.